Brendon Shields
We have reached a point in rugby where the actual game is no longer the main talking point once the final whistle blows. Instead, rugby is now called 'ref-talk'.
After 80 minutes of play between 30 men on a field, we talk about the ref. That is basically what it has come to.
I was totally shocked a week ago after the England game to hear Jean de Villiers and Nick Mallett go off like two schoolgirls at the referee and the sheer injustice of what they had just witnessed (when discussing Owen Farrell's tackle). "What makes me angry is that players and coaches can lose their jobs and their careers as a result of these decisions!" barked Jean, with Nick edging on his mood, both at the ready to grab their pitchforks and storm the castle.
Predictably this week Nigel Owens is a fan-favourite in SA, while in France he is the reason they lost. Similarly England lost because of Jerome Garces and the Australians are fuming over the Welsh breakdown tactics that refs were too blind to spot. In television studios, former players and coaches like Jean and Nick are given free rein to fuel the fires of 'ref-blame', with a willing public spreading the message far and wide on social media.
Fans take screengrabs of the rugby event to prove their point. Former players are happy to distribute these without a disclaimer that referees have to make decisions in real time. There is no acknowledgement that in real-time, many of these events simply do not warrant a second look. However, you will not see fans of the winning team distribute too many of these 'still frames'.
For example, in the game against France there is clear evidence of Pieter-Steph du Doit entering the ruck from the side when France was on our line in the last minute. If France was awarded the penalty they would have won the game and South Africans would be focusing on the high tackle on Cheslin Kolbe.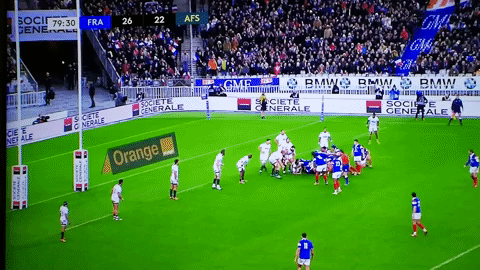 At schools and club level ref-talk has taken root over the past couple of years. At the VKB week in Reitz this year I witnessed parents from the Free State region shout abuse at the ref literally each time he blew against their team. The coach of the same team was barred from the field during one game because of all the sideline abuse he dished out, only for one of the parents to walk across to the ref and start another altercation. The behavior of the coach and the parents was simply pathetic and one felt sorry for the poor players who were there to play a game of rugby.
I wonder if Jean and Nick (and Rassie Erasmus with his video after the Farrell tackle) realise that their behavior gives license to anyone in rugby to have a full go at the ref each time the decision does not go their way? What kind of environment are we creating for young players when we as parents and coaches blame the ref if we lose? What lessons about life in general are we instilling with this message that our failure can always be blamed on someone else?
What irks me the most is that these highly-paid and respected individuals do not give us a balanced view by also outlining the myriad of instances where the referee decision favours our team. Instead they just fuel the flames, knowing full well that negative energy attracts a larger viewer audience.
It's all gone too far and I pledge anyone reading this to take deep stock of your own attitude. Are you still watching and enjoying rugby, or have you been sucked in by ref-talk? Do you understand that without a referee there is no game? Can you acknowledge that your own players make 30 times as many mistakes as the ref, in any given match?
I love the game of rugby because there are 31 human beings affecting the outcome. There are so many variables at play, of which referee interpretation is but one. However, if my team loses I can only blame the 15 guys wearing my jersey, not the guy in the middle! These are the values I learnt from my dad, whose generation still listened to games on the radio.
Imagine if today's studio pundits had to broadcast on radio – listeners at home will basically think there is only one person on the field – the evil ref!
Down with ref-talk. Let's reclaim the values of our game while there is still time.
FRESH TAKE is an initiative to identify, feature and develop talented rugby writers who are not yet part of the mainstream media. If that sounds like you, send us a sample of a story you'd like to write to info@alloutrugby.com
Brendon Shields is the developer of Matchday, a player performance database for schools rugby. Follow him on Twitter @brendonshields