Sanctions for dangerous play are getting more headlines than ever before. Leicester lock Will Spencer was red-carded for this head-high hit on Wasps hooker Tommy Taylor (1:09), while All Blacks skipper Kieran Read copped some flak after an epic clash against the Springboks for a no-arms clean on Francois Louw.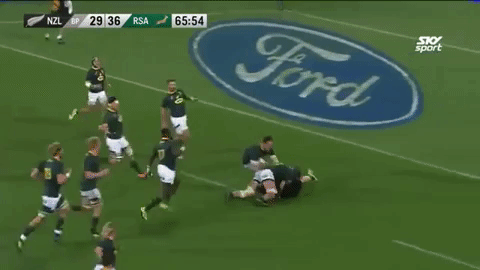 The AOR team weigh in on whether rugby has gone soft.
Tank Lanning – NO, it's gone safe!
Take a tackle from Duane Vermeulen and then tell me the game has gone soft!
Traditional rugby schools used to soothing a wailing little Johnny after leaving him out of the G side are now battling to put out a competitive B side.
Why? Because little Johnny's mommy has seen those high tackles, no-arms clean outs at the breakdown, and even those dastardly scrums! And she wants no part in this barbarism. Hence my lightie's school cutting the rugby season short in order to offer a month of soccer!
Yes, soccer!
The game has changed enormously, though. Players are bigger, stronger, faster and fitter. Mad Max has nothing on the collisions now seen on a rugby field.
The new laws looking after player safety are in response to the sport becoming progressively more dangerous, yet are believed by the "Gone Soft" brigade to be "Killing rugby". Will it take the death of a player for someone to realise this?
The directive to severely punish high tackles came after extensive research showed that they led to a huge increase in head injuries – for both the tackler and the tackled player.
The "Crouch, Bind, Set" scrum call was brought in given the compressed vertebrae injuries that were occurring as two, 1000kg packs came together in an uncontrolled engage.
What we do need to sort out, though, is this punishing the outcome instead of the action. So it's only a punch if it lands? Or it's only a dangerous tackle if the player lands on his neck? Horse manure! Punish the intended action, not the outcome!
Bottom line is that we either bemoan the game's so-called "softness" as the sport continues down a path forged by the Unicorn, or embrace initiatives that make it a safer sport to play.
Zelim Nel – YES
I'm not saying rugby is for softies, yet. But that's the end goal for social activists who can't cope with the celebration of red-blooded bravado.
If the game one day sinks to the point where the ball is replaced by a teddy bear and whining "when is it my turn?" signals a change in possession, that devolution will be traced back to the day rugby started compromising to avoid the ghosts of litigation and the shadow of parents pulling their boys out of rugby.
The snowflakes are happy to play the long game, winning the little battles on 'nipple-line tackles' to set the precedents required to eventually clinch the war. It's a slippery slope.
Protecting players, especially kids, should be a priority. But, as more than one sport is discovering, tinkering with the contest is a see-saw exercise that may slightly reduce the risk of one injury while radically increasing the risk of another.
Who mandated the Safety Police to decide that, for argument's sake, a significant increase in career-ending knee injuries is worth a slight reduction in concussions?
Rugby is indeed more dangerous than playing with a Rubik's cube, but what would the benefit-cost ratio be to society if we protected 10% of the population from head trauma by confining everyone to life in a plastic bubble?
Risk is a numbers game. Motorists die on our roads every day and yet there's no global campaign to reduce national speed limits to 10kmph. And while professional sport is optional, transport is not.
As usual, rugby has been its worst enemy on this issue. The game has the tools to protect players, it just needs to grow a backbone and enforce the laws that, for example, require a player to bind on a teammate/opponent when joining a ruck.
Rugby is played by some of the toughest blokes on the planet. Let's keep it that way.
You've read what they think, now drop a comment to let us know where you stand in The Big Debate!